What will come on the 2024 GMC HUMMER EV SUV Extreme Off-Road package?

2024 GMC HUMMER EV SUV Extreme Off-Road Package Features
The 2024 GMC HUMMER EV SUV is a supertruck built for nothing less than total off-road dominance. This emphasis is engineered into every aspect of the vehicle, from intimidating departure and breakover angles to standard independent front and rear suspensions for premium off-pavement handling.
In addition to the already-startling standard off-road capabilities, GMC has announced that something called the "Extreme Off-Road" package will be an available add-on for those who wish to enhance the machine's sizable off-roading abilities even further. Naturally, this announcement has sparked some curiosity in adventurous Floridians, who have been phoning in to us here at Carl Black Orlando and demanding to know: what exactly will come included on that 2024 GMC HUMMER EV SUV Extreme Off-Road package?
---
---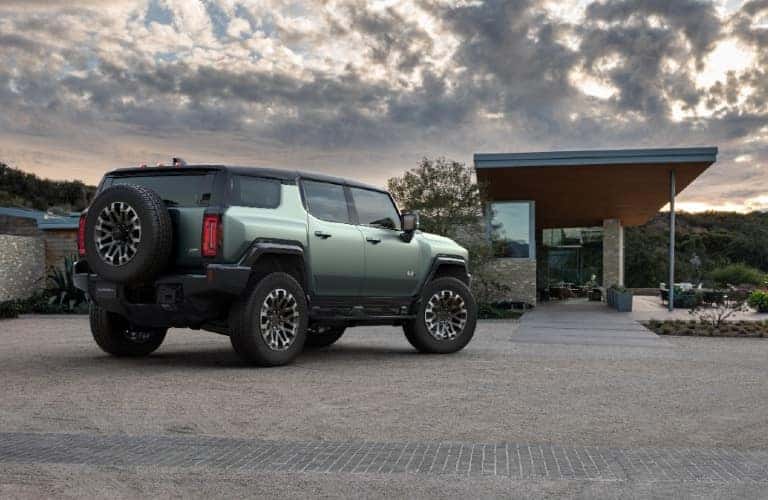 The 2024 GMC HUMMER EV SUV will gain additional adventuring capability with the Extreme Off-Road package through the addition of:
18-inch wheels with 35-inch OD MT tires
Underbody armor and rock sliders
Front eLocker
Virtual rear lockers
Heavy-duty ball-spline half shafts
UltraVision with underbody camera views
And more!
You May Like: Will the 2024 GMC HUMMER EV SUV have autonomous driving capability?
What do these crazily named features actually do?
The elements listed above sound great, but not everyone knows offhand what exactly they are. Here's a few tidbits of info:
The heavy-duty ball-spline half shafts help to maximize articulation, reducing unwanted steering feedback during hard cornering and off-roading.
The front eLocker and virtual rear lockers optimize traction.
The full underbody armor, skid plates and rock sliders utilize sturdy steel plates and shields around the differential and battery pack to help protect the vehicle's "sensitive regions" in extreme environments.
What other off-road-capability-enhancing features are available for the 2024 GMC HUMMER EV SUV?
Other available elements include available 4-wheel steer, which helps to reduce the model's turning radius and enable nimble maneuverability, granting maneuvering capabilities similar to those of a compact sedan. In addition, the shorter wheelbase of the SUV model enables an even tighter turn circle.
An available adaptive air suspension enables users to automatically adjust the SUV's ride height for different conditions. Putting it lower provides better aerodynamics, as well as easier entry and exit. Lifting up 2" higher enables improved ground clearance.
Finally, available continuous damping adaptive ride control adjusts damping levels by responding to inputs, providing enhanced ride dynamics. When off-road, the system adjusts damping levels based on shock travel.
Check out more enticing original content on our blog!