Does DC Fast Charging come standard on the 2021 Chevy Bolt EV?

2021 Chevy Bolt Charging Features and Capabilities
Electric vehicles look to be on the verge of becoming the new norm. Chevy has been ahead of the curve with the Bolt, however, for a few years now.
EV drivers know that varying charging technologies exist that can charge electric vehicles at varying speeds. The catch is that the vehicle being charged has to be equipped properly to be able to take advantage of higher charging speeds.
The fastest type of chargepoint currently out there are the DC Fast Charging stations. Does the 2021 Chevy Bolt EV come standard with DC Fast Charging?
---
View Our New Chevy Bolt Inventory
---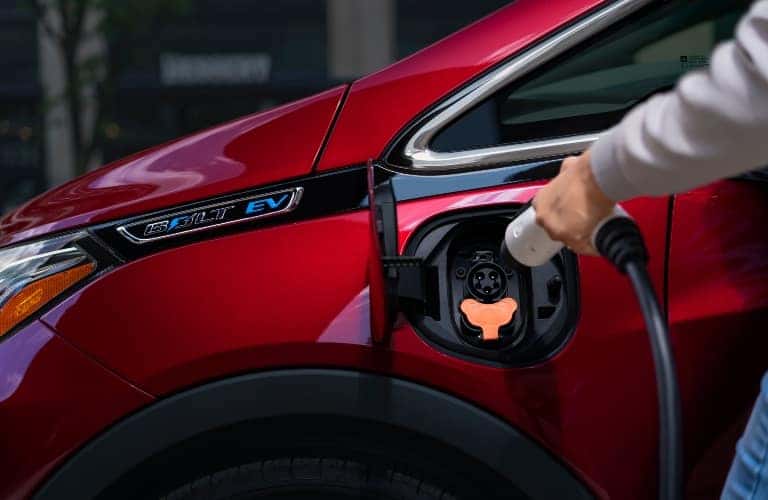 The 2021 Chevy Bolt EV comes standard with DC Fast Charging on the Premier trim level. Its other, lower trim, the LT, offers DC Fast Charging as an available option.
Both trims of the 2021 Bolt come standard with Level 1 and Level 2 charging capabilities.
For Your Information…

Level 1 Charging has 120-volt capability

Level 2 Charging has 240-volt capability

DC Fast Charge has 480-volt capability
Is standard DC Fast Charging a new feature on the Bolt?
Yes. For the 2020 model year, the Chevy Bolt offered DC Fast Charging as an available option on both the LT and Premier trims. So, at least now it's standard on one of them.
Ever Wonder: In the future, is every GM vehicle going to be electric?
Can I charge with a DC Fast Charging station if my model is not DC Fast Charging-compatible?
Yes. Charging on a chargepoint above what your vehicle is rated to charge at will not cause harm; your vehicle will simply charge at the highest rate its able to/rated for.
Did you know? Future GM EVs will be powered by the automaker's new Ultium Batteries.
Wasn't the 2021 Chevy Bolt supposed to receive a model refresh?
Yes. However, due to certain circumstances affecting the world today, that planned Bolt refresh was delayed until 2022. The refreshed Bolt EV is slated to hit production next summer, but like everything else, we assume that's subject to change.
Chevy also has the new Bolt EUV in the works, which is a crossover built on the Bolt platform. You can look forward to learning more about that in the future.