What is ACDelco?

ACDelco Parts Brand and History
If you've been perusing the realms of auto parts or General Motors, you've likely come across the word "ACDelco." Commonly affixed to the beginning of various parts names, such as shocks, suspensions and brakes, ACDelco parts tend to be a little more expensive than some other options.
Here at Carl Black Orlando, we offer a lot of ACDelco parts in our parts center. As a result, some customers hailing from the Orlando region like to ask: what exactly is ACDelco?
---
---
ACDelco is an auto parts brand owned by General Motors. It consists of factory parts made for GM vehicles. In addition, ACDelco offers aftermarket parts for non-GM rides.
Interested in some ACDelco parts here in central Florida? Feel free to order them from our parts store, or check out our current specials in our collection of service coupons!
Has ACDelco always gone by that name?
Over the years, the General Motors parts division has gone by many names. The elderly among us may remember such monikers as United Delco, United Motors Service, and United Motors Corporation.
Is ACDelco related to AC Delco Systems?
No. AC Delco Systems was formed in 1994 from merger of AC Rochester Division and Delco Remy Division. That company was absorbed in 1995 by Delphi Automotive Systems.
In addition to parts, we offer a bevy of dank GM accessories.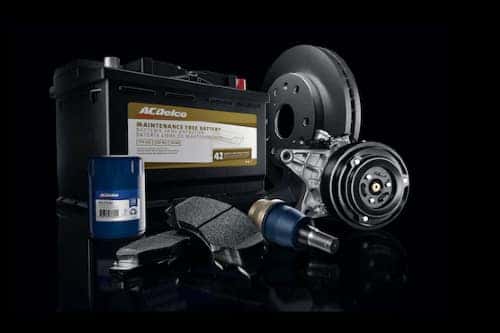 What's the story of ACDelco?
The origins of ACDelco date all the way back to 1916, when GM founder William C. Durant formed the United Motors Corporation. Initially, United Motors Corporation was separate from GM, until GM acquired it in 1918. Still, UMC did not become a fully integrated division of GM until 1944.
Around 1960, the division's name was changed to United Delco.
So, where did the "AC" part come from? Well, General Motors also owned a company called AC Spark Plug, which was a spark plug manufacturer founded back in the day by Durant and Albert Champion, a bicycle racer from Europe. The "AC" came from Albert Champion's initials.
In 1974, General Motors merged AC Spark Plug with United Delco, resulting in AC-Delco.
Still, the name was not yet in its modern form. Keen eyes will notice a hyphen placed between AC and Delco. The hyphen was finally dropped in 1995, and the division became the ACDelco we know and love today.