The Mission of GMC and a GMC Dealer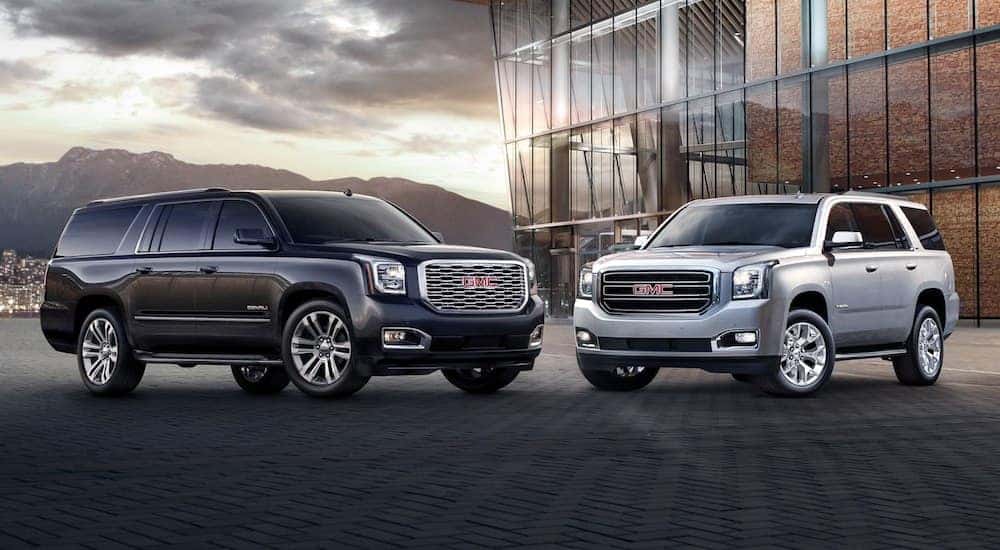 Every dealer needs a mission in order to truly make their mark on the automotive world. At GMC the mission is made into multiple parts that all come together to equal a manufacturer and GMC dealer you can trust to provide you with the best selection of large and balanced SUVs and trucks this nation and possibly this world, has to offer the public.
GMC Mission Statements
Ever since its founding over a century ago, GMC has held true to a number missions, there are four main missions that GMC and GMC dealers uphold at all costs.
Mission Statement One: The Bigger the Better
You will never see a sedan, coupe, or convertible on the lot of a strictly GMC dealer. This is because they are a division of General Motors that specializes in trucks and utility vehicles. SUVs, Light-Duty trucks, and Heavy-Duty trucks of the best quality will be the ones that find their home at GMC. Some say size doesn't matter, but GMC thinks differently. Here are some of the size stats:
SUVS
The GMC Terrain is 182″ L x 72″ W x 65″ H  with a curb weight of 3,449 to 3,841 pounds and 29.6 ft³, 63.3 ft³ with seat area in cargo space
The GMC Acadia is 194″ L x 75″ W x 66″ H with a curb weight of 3,956 pounds and 12.8 ft³, 79 ft³ with seat area in cargo space
The GMC Yukon is 204″ L x 81″ W x 74″ H with a curb weight of 5,626 pound and 15.3 ft³, 94.7 ft³ with seat area in cargo space
The GMC Yukon XL is 224″ L x 81″ W x 74″ H with a curb weight of 5,610 to 5,965 and 39.3 ft³, 121.7 ft³ with seat area in cargo space
Trucks
The GMC Canyon is 212-225″ L x 74″ W x 70-71″ H with a curb weight of 3,938 to 4,547 pounds
The GMC Sierra 1500 is 205-239″ L x 80″ W x 74″ H with a curb weight of 4,515 to 5,461 pounds
The GMC Sierra 2500 is 224-258″ L x 80-81″ W x 78″ H with a curb weight of 5,741 to 6,689 pounds
The GMC Sierra 3500 is 224-258″ L x 80-96″ W x 78″ H with a curb weight of 8,070 pounds
Mission Statement Two: Bold is the New Beautiful
GMC vehicles are not just big; they are also bold. By design, every GMC from the smallest to the largest can intimidate on presence alone. Looking at one will give you the chills while being in one gives you the confidence to take on your great fears and most epic journeys. A lot of that boldness comes from the signature GMC grille with the GMC logo front and center, but there is also a boldness in even the more subtle exterior features.
Boldness isn't just about exterior features though. What makes a vehicle truly bold is what's under the hood. The engine selection for GMC vehicles outperforms nearly every other automotive in their class. Here is what they have to offer:
The GMC Terrain
1.5L turbo engine with 170 hp and 203 lb-ft of torque
2.0L turbo engine with 252 hp and 260 lb-ft of torque
1.6L turbo diesel engine with 137 hp and 240 lb-ft of torque
3,500 pounds of towing
The GMC Acadia
2.5L 4-cylinder engine with 193 hp and 188 lb.-ft. of torque
3.5L V6 engine with 310 hp and 271 lb.-ft. of torque
4,000 pounds of towing
The GMC Yukon and Yukon XL
5.3L V8 engine with 355 hp and 383 lb.-ft. of torque
6.2L V8 engine with 420 hp and 460 lb-ft of torque
8,500 pounds of towing
The GMC Canyon
2.5L 4-cylinder engine with 200 hp and 191 lb-ft of torque
3.6L V6 engine with 308 hp and 275 lb-ft of torque
2.8L Turbo Diesel engine with 181 hp and 369 lb-ft of torque
7,700 pounds of towing
The GMC Sierra 1500
4.3L EcoTec3 V6 with 285 hp and 305 lb-ft of torque
5.3L EcoTec3 V8 with 355 hp and 383 lb-ft of torque
6.2L EcoTec3 V8 with 420 hp and 460 lb-ft of torque
12,500 pounds of towing
The GMC Sierra 2500 and 3500
6.0L Vortec V8 Engine with 360 hp and 380 lb-ft of torque
6.6L Duramax Diesel engine with 445 hp and 910 lb-ft of torque
18,100 pounds of towing for 2500
23,000 pounds of towing for 3500
Overall, these vehicles are truly commanding on and off the street, and it loves to show it by dominating every other vehicle in its class.
Mission Statement Three: Vehicles Should Always Be Brilliant
Just because a vehicle is big does not mean that it can't also be smart, refined, and downright brilliant, and with every model made, GMC has proven that. GMC offers only the latest technology and highest-quality materials in their vehicles. Craftsmanship is far from dead at GMC and they care about everything from the way they stitch to the upholstery and exterior paint the use. GMCs infotainment, for example, is one of the best in the automotive world at the moment. It is easy to navigate and offers a plethora of features that are sure to make your life easier. The main appeal is that it links directly to your personal smartphone so that you can send and receive hands-free calls and texts while on the open road, or listen to your personalized playlist. Your smartphone can also get the MyGMC app to make life easier by connecting you with your GMC vehicle even when you aren't in it. Basically this is one brilliant model.
Mission Statement Four: Balance is Everything
The best thing about GMC is their ability to balance all of these missions into not just one, but a whole lineup of outstanding vehicles that never fail to impress year after year with their refined ruggedness. When brash boldness and elegant brilliance are both a requirement, it is essential that both are integrated with the utmost care, and GMC always manages to pull that off in both style and features.  Balance is what makes GMC is unique in the automotive world, and that is why it is their fourth and most important mission.
A Dealership That Understands the Mission
At Carl Black Orlando we too have our own mission statements that follow closely to what GMC strives for. With a big selection to choose from, bold passion for the automotive, and a brilliant staff, you will find us to be a balanced GMC dealer that never fails to give our community what they require in a vehicle and in a dealership. We pride ourselves on transparency, because we have nothing to hide besides quality vehicles and fair prices. So if you want a dealership that will always service you with quality straightforward service, you will certainly find that Carl Black in Orlando is the best option for all your automotive needs.