Silverado vs. Colorado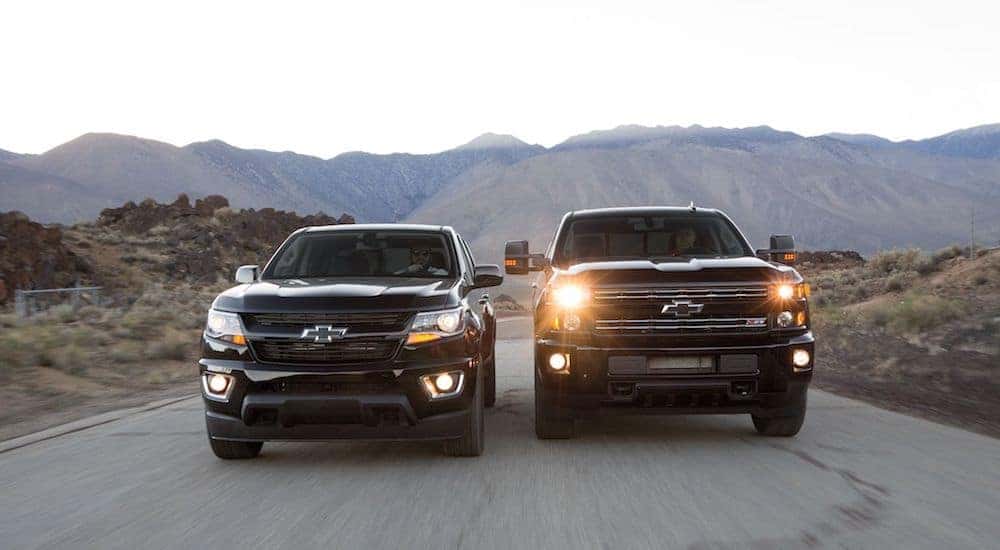 It is easy to see that Chevrolet is well-known for their truck lines. For personal and professional use alike, a Chevy truck is a reliable vehicle that can handle a lot of use and abuse over decades. Best of all, most Chevy trucks only require minimal maintenance and repairs over the course of a lifespan. They are extremely upgradable and customizable to fit the needs and wants of any driver.
If you drive a Chevy truck or have ever been interested in one, you probably reached the point of having to decide between the Silverado or Colorado. Both models are excellent vehicles that share a lot of similarities in terms of overall performance and reliability. At the same time, each model has its own set of strengths that cater to different individuals. Knowing the differences between the Colorado and Silverado will help you make the final choice when it comes time to buy your next Chevy truck.
Size
The first and most obvious difference between these two models is the size. The Colorado is a typical midsize truck meant for lighter duty hauling tasks and driving. The Silverado, on the other hand, is a true full-size truck. Among its many trim lines, you will find different cab and bed sizes that can accommodate larger equipment and objects.
The Colorado makes an excellent personal truck to use for a variety of purposes. Driving around town, for example, is a lot easier in a midsize truck given the greater maneuverability and narrower profile. It can slip into parking spaces more easily and handle the stop and go traffic of a typical city environment with better fuel efficiency. The Colorado also has a respectable towing capacity depending on the engine you choose, making it great for lighter towing and trailering activities.
The Silverado is the true workhorse of the Chevy fleet. Anytime you need to haul anything heavy or transport a lot of supplies and equipment; the Silverado is the better choice. Having a wider profile means you have extra width in the bed to store things. The bed options also mean you can select the right length for your needs.
Customizability
Both trucks are extremely easy to customize to your personal liking or needs. Off the factory floor, the Silverado gives you more options in terms of the cabin and bed size along with the specific engine you choose. Some trim lines come with a specific combination of bed, cabin, and engine automatically. In this case, it is easy to pick the particular trim that will give you the combination you want. It is also easy to see which combinations will fit within your budget.
Initially, the Colorado is a bit more limited in terms of the standard and optional specifications and features available since it is fairly set in its bed and cabin combination. The engine options, however, do offer more variety. This is a good truck to consider if you want the possibility of an engine that is more fuel-efficient without sacrificing too much in performance and speed.
Both trucks are great when it comes to aftermarket accessories and upgrades. A truck itself is the perfect platform for certain types of modifications. Off-road accessories, for example, are widely popular among Chevy truck owners. Both the Colorado and Silverado can accept a large number of different accessories such as fog lights, running boards, bed racks, and more.
General Use
In the end, you can use either a Silverado or Colorado anywhere you want. Both trucks are perfect for typical pickup uses such as transportation and hauling. They are also right at home in more urban environments during the daily commute. Still, how you plan to use the truck may influence which model you decide to buy.
The Silverado is the more traditional of the two models. Long used for heavy-duty tasks and professional projects, the Silverado makes a great commercial vehicle with a few modifications. You can also purchase a factory made commercial Silverado that comes with unique accessories like tool boxes and bed organizers already installed.
The Colorado, on the other hand, is more of a personal truck. In a similar vein to large sedans and smaller SUVs, the Colorado makes an excellent, versatile ride. If you have a typical commute, the Colorado is great for navigating common everyday traffic and routes. It also excels at the occasional trip to the grocery store, dropping the kids off at school, and more.
Ultimately, it is up to you to decide how you see yourself using a Colorado or Silverado. Even though each truck is at home in one environment over another, both will easily serve you and your needs. If you want to use a Colorado as a commercial truck, do so without hesitation. If you think the Silverado would make a great daily commuter, go for it.
Seeing The Differences In Person
You can only look at different specifications and features between the Colorado and Silverado so much before you have to get your hands on the wheel of one. A good test drive is the only way to truly experience the characteristics of each truck in person. Feeling the differences in size and handling alone is valuable when you are making the choice between the two options.
A test drive will also help you figure out what truck seems like the better fit. There comes a point where you have to go beyond the specifications and details of each truck. Sometimes, the final choice simply comes down to feel alone. Which truck feels better behind the wheel? Which truck does your family like more? All of these things are important when determining which truck is right for you.
The best place to go for a test drive of either the Silverado or Colorado is Carl Black Orlando. We have a healthy inventory of both trucks with different trims for you to look at and test drive. Get the first-person experience today by coming down to the dealership to see what we have available.