How the 2019 GMC Terrain Denali Separates Itself from the Pack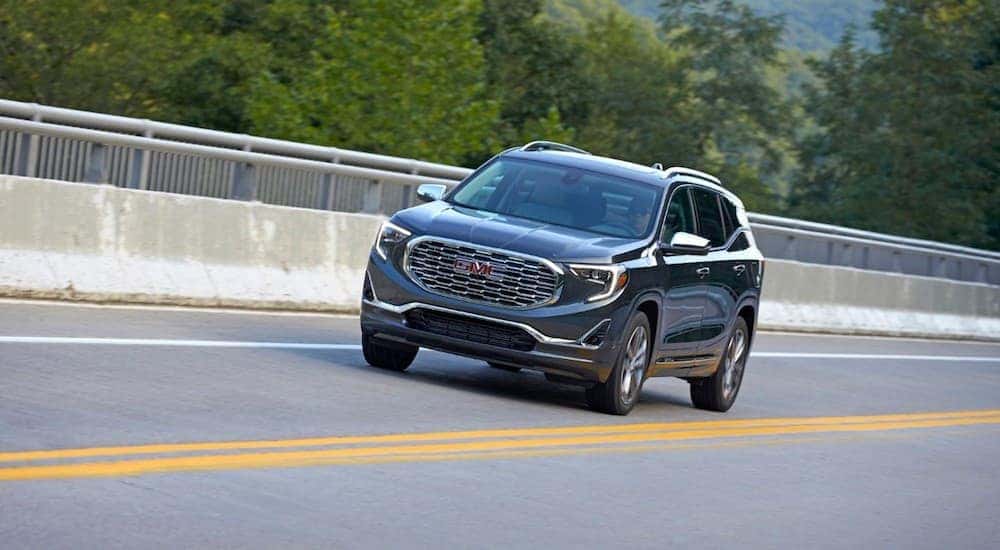 The SUV segment is seemingly littered with options, so it can be tough for customers to find their picture-perfect ride. Fortunately, if you're someone who's been browsing the internet for "GMC dealers near me," you'll appreciate that there's one nameplate that continues to emerge from the pack.
The 2019 GMC Terrain Denali is one of the few vehicles in the entire segment to deliver top-notch performance, convenience, entertainment, and safety. Regardless of your reasons for pursuing an SUV, we're confident that this option will provide everything you're looking for.
Take a look at how the 2019 GMC Terrain Denali is managing to separate itself from the pack. Then, the next time you're searching for a "GMC dealer near me," you'll already know what nameplate you want to pursue…
Performance
You might not necessarily use the adjective of "hulking" or "muscular" to describe the 2019 Terrain Denali, but you could surely use that term when explaining the SUV's incredible engine. The Terrain Denali manages to provide drivers with a unique blend of power and efficiency, and owners will also appreciate the accompanying driving experience.
The vehicle can be equipped with the tiny 2.0-liter turbocharged gas engine, but customers shouldn't be dissuaded based on the smaller stature. The system is ultimately capable of cranking out up to 252 horsepower and 260 pound-feet of torque, allowing drivers with more than enough muscle to keep up with their fellow drivers. These power specs also play a significant role in the SUV's 3,500-pound towing capacity, transforming the nameplate into one of the more versatile vehicles on the road.
Despite all of that power, the system somehow manages to be incredibly fuel efficienct. Drivers can ultimately anticipate up to a 28-mile-per-gallon highway fuel efficiency, a number that's rarely seen in this particular segment. Thanks to this fuel economy, drivers will have the opportunity to save some extra dough at the gas station.
Predictably, the brand added a number of additional mechanical amenities that will come in handy during any excursion. The nine-speed transmission is smooth and intuitive, allowing drivers to switch to the mode that best fits their needs easily. The innovative Traction Select system allows drivers to find a mechanical configuration that accommodates the impending road condition. Thanks to the ability to choose between front-wheel-drive, all-wheel-drive, off-road, and the available Tow/Haul mode, drivers will never have to worry about their SUV's ability to overcome adverse or unfamiliar conditions.
To top it all off, engineers focused on "refining" the 2019 Terrain Denail's mechanical aspects, thus assuring an unmatched ride. Thanks to the optimized suspension, drivers can enjoy a smooth and consistent driving experience.
Technology
Similar to any 2019 model, the Terrain Denali is equipped with a number of technological amenities that will be appreciated by both drivers and passengers. However, the nameplate separates itself from the pack thanks to the wide variety of features that have been included in the vehicle.
It naturally starts with the brand's customizable touchscreen, which makes it more than easy to access any of your preferred applications at any time. Thanks to the accompanying Apple CarPlay and Android Auto compatibility, drivers can also connect their phone to the unit. That way, they can easily make phone calls, send texts, or listen to their favorite playlists without having to glance down at their phone. The system even includes a built-in navigation system, meaning you'll never have issues finding your destination. If you decide to jam out to your favorite tunes, then you should consider opting for the Bose Premium Seven-Speaker Sound System, which will promise drivers an unmatched listening experience.
If owners are really looking to boost the technology of their new SUV, they could consider opting for the available 4G LTE Wi-Fi. Providing a strong wireless internet connection to up to seven devices, occupants will never have to worry about their ability to stay on the grid.
Interior
Predictably, the 2019 Terrain Denali's interior includes more than top-notch technology. Rather, owners will be impressed by the incredible cargo space and comfort amenities, attributes that help to play a major role in the vehicle's overall effectiveness.
In terms of cargo space, the vehicle automatically delivers a spacious 29.6-cubic-feet of space behind the second row. However, when owners truly unlock their SUV's potential by folding the rear seats, they'll be able to realize an incredible 63.3-cubic-feet of space. That means you'll have more than enough space to fit any cargo you'll need for a daily journey.
Plus, engineers included a number of amenities that will make loading that cargo an absolute breeze. The Front-to-Back Flat Load Floor means you'll never have issues accessing the maximum cargo space, while the Hands-Free Power Programmable Lift Gate means you won't have to struggle with your keys as you're loading all of that cargo inside of your new ride.
The vehicle also includes a number of comfort amenities, assuring that everyone remains comfy throughout a journey. The Heated Leather-Wrapped Steering Wheel will allow you to escape the winter weather, while the SkyScape Sunroof will allow fresh air to flow into the interior. To top it all off, engineers included French Stitched Leather-Appointed Front Seats, which helps to add some opulence to the ride.
Safety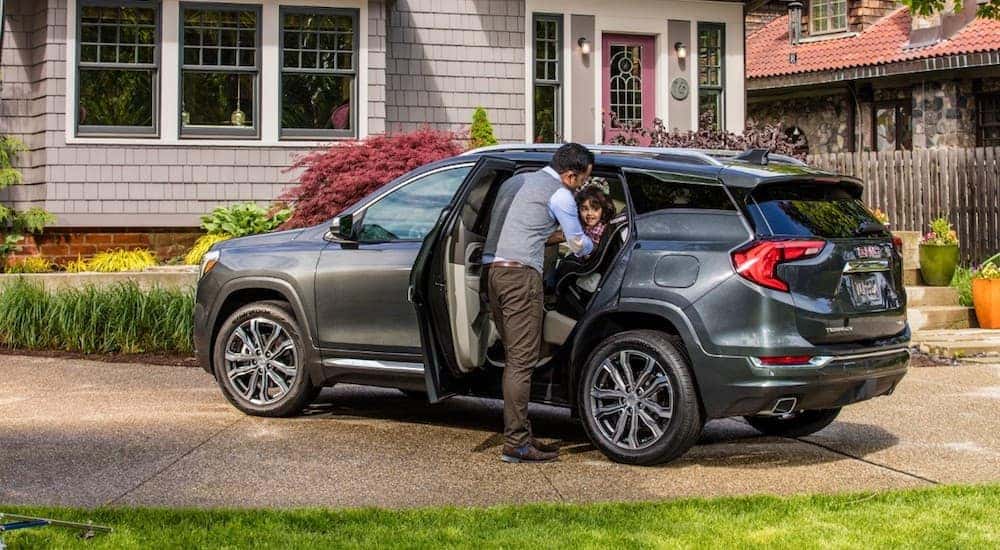 Regardless of whether you're going to be driving solo or traveling with an SUV filled with family members, you'll appreciate all of the safety functions that engineers managed to cram into the 2019 Terrain Denali. These features will play a significant role in preventing accidents from occurring, thus assuring everyone's safety.
Many of these features will prove to be especially useful when you're traveling on the highway. For instance, the Adaptive Cruise Control acts similarly to a standard cruise control system, but it can change its speed based on the flow of traffic. The Lane Change Alert (with Side Blind Zone Alert) will alert the driver when it may be unsafe to switch lanes, while the Lane Keep Assist (with Lane Departure Warning) assures that the driver is always remaining on their intended path.
There are even some features that will come in handy when you're traveling in the city. The Low Speed Forward Automatic Braking can detect when a collision is imminent, and the SUV can automatically apply the brakes to help prevent the crash. The Front Pedestrian Braking plays a similar role, as the technology will always be prepared for a random person to walk in front of your Denali. The vehicle can even be equipped with an HD Surround Vision camera. This doesn't only allow you to monitor everything that's happening around your SUV. Rather, it can also help guide you into tight parking spots, thus reducing the chance of an accidental fender bender.
There's no denying that the 2019 GMC Terrain Denali is one of the most impressive SUV options in the entire class. If you're convinced that this is the perfect target, then you should be heading out to Carl Black Orlando Chevy Buick GMC today!
The dealership doesn't only have the best prices. Rather, they provide customers with a variety of services that will come in handy before and after you've made your purchase. Plus, thanks to their convenient hours, you'll never have to stretch your schedule in order to visit the premises.
So what are you waiting for? If you want to get your hands on the brand-new 2019 GMC Terrain Denali, then head out to Carl Black Orlando today!