GMC Trucks: Now with Brains to Match the Brawn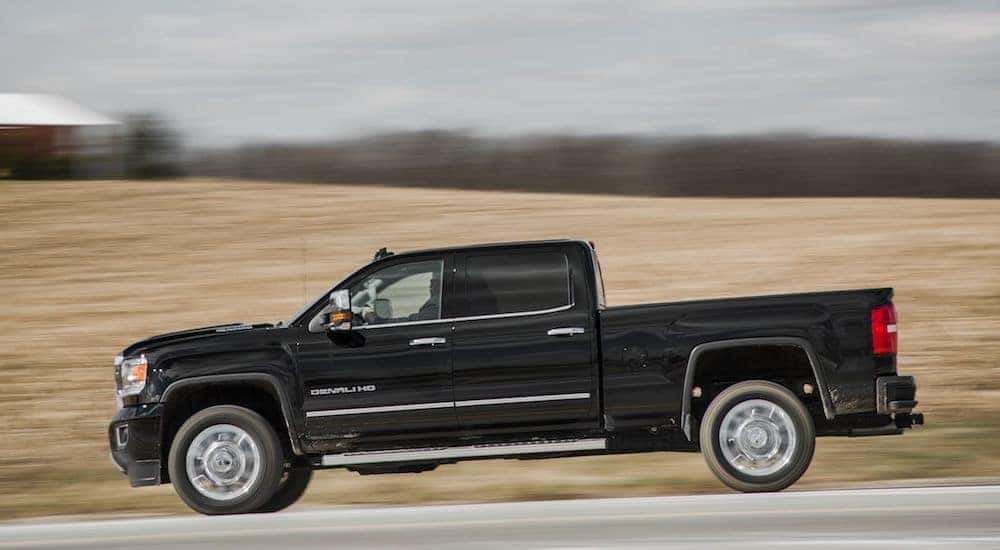 Try to spend a day or two without your phone, television, microwave, or computer and you should be able to realize what an essential role technology plays in our society. Technology is everywhere, and it can do almost anything. Our phones are smarter, our TVs are smarter, our tablets are smarter; so why shouldn't our trucks be? Just because GMC trucks are known for their brawny muscles, and intimidating exterior doesn't mean they don't have a brainy side. Sure they can tow over 20,000 pounds when suited up, but it can also make your life more safe, comfortable, and convenient with its built-in technology features.
Safety
There is nothing more important than the safety of ourselves and those we care for. This may sound ironic considering that technology has a stereotype of using about mind-numbing games and endless swiping through memes to make us less focused on the world around us, but technology can also be used to make us more aware of our surroundings and in turn make us safer.
Rear Vision Camera
Rear vision cameras are becoming a standard feature in almost every vehicle manufactured these days due to how much safer they make the road; so GMC trucks are also getting this significant upgrade. Rear vision cameras allow the drivers to see everything going on behind them so that they may properly guide themselves while moving backward. In terms of GMC trucks, this is also a lifesaver for when you are hauling since there is now a trailering assist feature on the camera.
Forward Collision Alert
Forward collision alert is kind of exactly what it sounds like; if there is a possibility of a collision in front of you, you will be alerted. This is extremely helpful whether on highways, but it also could do some good if you lose focus when approaching a stop sign or red light.
Lane Departure Warning
Lane departure warning alerts you when you are staying in your lane and don't have a signal on, and let's face it we have all been there. This feature is only active when you are going at least 35 mph.
Teen Driver System
This is a feature for all the new drivers in the household. Not only will teen driver technology help encourage safe driving habits by allowing parents to set limits on features, but it will also give parents a report card of sorts that will tell you everything about your teens driving behavior even when you aren't in the car. Also, let's be honest, we want our truck to be protected from them too.
GMC Pro Grade Protection
Just when you thought you had it all, there is also GMC Pro Grade Protections which is a maintenance and warranty agreement with a little bit of OnStar safety coverage sprinkled in. Here is what you will get with this protection:
Two maintenance visits within two years of driving

3 years or 36,000 miles bumper-to-bumper warranty

5 years or 60,000 powertrain warranty

5 years or 60,000 of roadside assistance and courtesy transportation

10 years of GMC connected Access

1 month of GMC connected services and OnStar coverage
Comfort
 Proper comfort in a vehicle is not just essential for your personal pleasure, but also necessary for your personal health. An uncomfortable vehicle can cause severe neck, back, or other issues later on. A GMC truck may seem rough on the outside, but inside it is as comfortable beyond anything one would expect in such a heavy-duty piece of equipment.
Heated and Ventilated Seating and Steering
These heated seats will warm you right down to the icy part of your soul
that you thought had died years ago. When the steering wheel will keep those always freezing hands a chance to melt. Relaxation will be almost instantaneous, and the only con is that you just may be so relaxed that you won't ever leave the parking lot. The ventilation is also a breath of fresh air when you need a pick me up during the hotter seasons; unless you like sticking to your seats like a fly on wax.
High-Grade Material
The seating for GMC trucks can always be upgraded to a stylish leather for both appearance and comfort. These seats are also made with dual-density seat foam to make them more plush and last longer. Upgrade to the Denali trim, and you will also get soft-touch controls, front head restraints, and contrast stitching.
Quiet Innovation Technology
No matter how many times you get into a GMC truck, the first thing that will always surprise you is how quiet it is on the road. Whether its back streets or the roaring highway you won't be able to tell the difference because GMC trucks have an inlaid door design that is triple sealed, a shear-style body mount, and a liquid applied sound deadener.
Connectivity
 Even though you are on the road, there are still people you are thinking about. Whether its family, friends, or Tim from the office, you can be sure that GMC trucks will have all the tools to keep you connected every second of the drive with safe and easy to use technology features.
Diagonal Color Touch Display Infotainment System
Lower trims have 7-inch screens while higher trims offer 8-inch screens with built-in navigation, but for the most part, GMC trucks have the best infotainment systems on the market. Using Bluetooth this system allows you to instantly connect with your Apple or Android smartphone and be amazed as you listen to all your favorite playlist, make calls, send texts and use all your favorite apps like maps all without taking your eyes off the road.
Bose Premium Audio System
In order to honor your favorite singers and songs though you will need a proper sound system. Bose is one of the best automotive audio systems available, and with them, you won't miss a beat.
4G WiFi
Get internet anytime anywhere with your GMC truck's built-in WiFi. It's really that simple.
MyGMC Mobile Application
MyGMC is a GMC exclusive app that lets you always stay connected with your GMC truck wherever you go. This app will allow you to locate, start, send destinations, and check the overall status of your GMC truck with just your smartphone. 
Wireless Charging
With how much you will be using your smartphone by using the MyGMC app, you will need a convenient place to charge it. Well, the higher trims on some GMC trucks will even offer wireless charging so that you will always have a way to keep connected at all times.
At Carl Black in Orlando, we don't sell one-dimensional vehicles that are only smart or only powerful, because just like you we like our vehicles high quality and well-rounded. The limits of technology are expanding every day, and with the quality of vehicles, we can offer drivers everywhere. So you want all the latest technology for your GMC truck, then Carl Black Orlando will have you're covered.