GMC Orlando – Versatility, Performance, and Luxury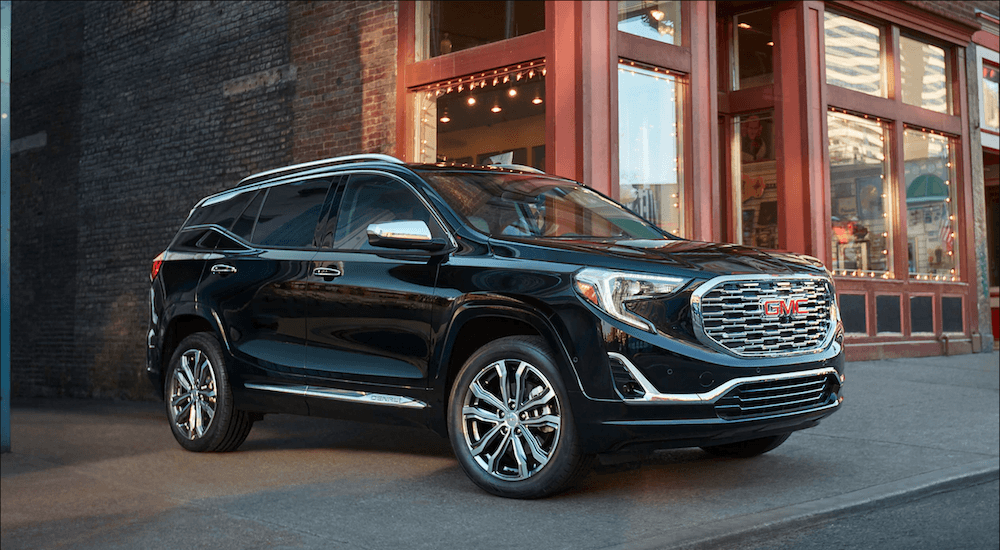 You may think it odd for a popular automotive brand to have never made a sedan, only trucks and SUVs, especially one as popular and storied as GMC. Orlando area drivers, however, have widely varying car, truck and SUV needs, and Carl Black Chevrolet Buick GMC has widely varying car, truck and SUV options.
GMC is best known for making pickup trucks, but they've also had their hands in the SUV market for some time. GMC rolled out its first truck before WWI, and has been rolling them out ever since. It wasn't until 1937 that they introduced their first SUV. At the time, it was known as the Suburban. That nameplate would eventually be handed over to GMC's cousin Chevrolet, and the GMC Suburban would hence be known as the Yukon. And even though GMC is best known for their trucks, the SUVs have brought attention from many prospective buyers for their attention to interior luxury.
Below, we will take a look at three different GMC vehicles: The GMC Sierra 1500, the GMC Sierra 2500 and the GMC Terrain. Once you've read all about these beautiful automobiles, we invite you to come down to Carl Black Chevrolet Buick GMC in Orlando and see these impressive vehicles in person.
GMC Sierra 1500
The GMC Sierra 1500 is the best-known nameplate of the GMC family. Mechanically, it is pretty much identical to its cousin, the Chevy Silverado. However, the GMC Sierra does have certain appointments that the Silverado lacks.
The Sierra 1500 comes with five different engine options, including the 6.2 liter V8. This behemoth of an engine has 420 horsepower and 460 lb-ft of torque. It is paired to a 10-speed transmission, meaning it can haul pretty much whatever you need and can do it with ease and efficiency.
This engine is available on the Denali trim, which is the highest trim on the Sierra 1500, and the AT4 trim. The AT4 trim is the equivalent to the Trail Boss trim on the Chevrolet Silverado 1500. However, while these two companies share the same engines, the Trail Boss trim level on the Silverado does not have this beast of an engine as an option. That's a point in the GMC column, for sure.
This year, GMC is unveiling an industry first: the Multi Pro Tailgate. This tailgate has a tailgate inside the tailgate. There is a smaller gate located at the top of the regular tailgate that makes loading cargo into the Sierra 1500's bed much easier. This gate can also remain lowered when the full sized tailgate is up, meaning that any extending cargo can protrude through the smaller tailgate and will not potentially hinder the driver's ability to see past the bed of the truck. You can expect other truck companies to take notice of this brilliant innovation.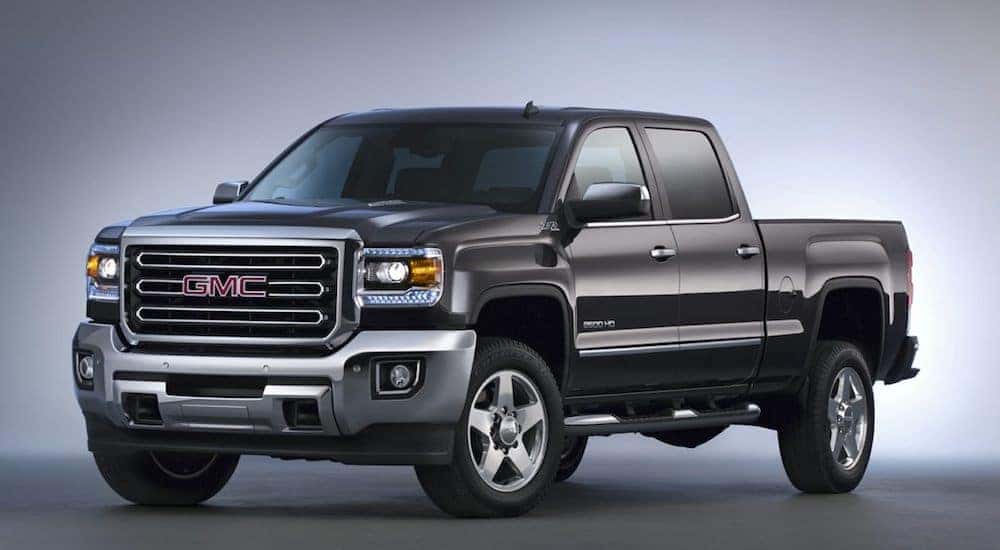 GMC Sierra 2500
As you might guess, the GMC Sierra 2500 is the big brother of the 1500. Starting at $34,940 MSRP, it features much of what makes the Sierra 1500 so popular, including that nifty new tailgate. However, with it being substantially bigger, it has bigger things to offer, as well.
It has a cargo payload of 3,204 pounds, which is a lot of stuff to toss in the truck bed. This bed comes in two available sizes: 6'6" in length or 8'1" in length. If you are the kind of pickup truck driver that uses the bed extensively, the 8'1" option is plenty big for most everything that can be thrown back there.
Naturally, a truck that is as big on the outside as the GMC Sierra 2500 is will be quite roomy on the interior. There is plenty of room for heads, legs, shoulders and hips, even for taller people. Additionally, the rear seats can fold down, giving you plenty of interior cargo space to go along with the roomy cargo bed space.
When coupled with a fifth wheel trailer, the GMC Sierra 2500 can tow a whopping 18,100 pounds. That is plenty of muscle for anyone who needs to tow a recreational vehicle, such as a boat, ATV or camper, as well as muscle for work trailers. If you are in need of a lot of towing power, be it for work or play, the GMC Sierra 2500 has more than enough power and cargo room to suit your needs.
GMC Terrain
The GMC Terrain is a relative newcomer to the GMC line. This crossover SUV was introduced in 2010 but has quickly become popular among SUV drivers, having sold more than 85,000 units in 2017 alone.
The 2018 second generation got a complete redesign which addressed many of the needs of the first generation. It has a very roomy interior for seating up to five people. With the rear seats in place, the GMC Terrain gets a respectable 29.6 cubic feet of cargo space. When the seats are folded down, however, that number more than doubles, to 63.3 cubic feet. Not only can the GMC Terrain seat people comfortably, it can also easily carry around all of your cargo, groceries, pets or whatever you need to get from Point A to Point B.
As far as interior perks go, the Terrain is certainly not lacking there. It features no fewer than six USB ports. That is plenty of charging and accessibility for all kinds of gadgets, either yours or your passengers. Interestingly, one thing the GMC Terrain does not feature is a CD player. GMC reckons that CD technology is on the way out, so they may as well use that space for something people can use now and in the future. It does feature easy to use Android Auto and Apple CarPlay. So, if you are the kind of person that uses your cell phone for music or podcasts, you can easily integrate whichever device you have into the Terrain's infotainment system and listen away.
Carl Black Chevrolet Buick GMC in Orlando
Looking for a new GMC truck or SUV need look no further than Carl Black Chevrolet Buick GMC. Orlando area residents can find us located at 11500 E Colonial Drive, we have a dedicated sales staff that will be more than happy to show you around any of these three beautiful vehicles, or any of the other vehicles we have on our lot. Our sales staff knows these vehicles inside and out and can't wait to put you in one that is the perfect fit for your driving needs.
We also have a finance team that can navigate you through the sometimes confusing process of financing a new vehicle. Whether leasing or buying, our finance team knows the best way to get you into that car and enjoying your brand new GMC truck or SUV.
We also have an on-site service department that can set you up with a regular maintenance schedule. Anything from oil changes to tire rotations to more serious work, our trained service technicians can do it all. And for you do-it-yourself types out there, we also keep a fully stocked parts department with parts and accessories for the wide range of our vehicles.
If you can't make it down to our showroom on E Colonial Drive right away, our online showroom is open 24 hours a day, 7 days a week. You can browse our new and used selection, then come down and see these beauties in person. We are waiting for you!