Experience the Magic of Chevrolet's Minnie Vans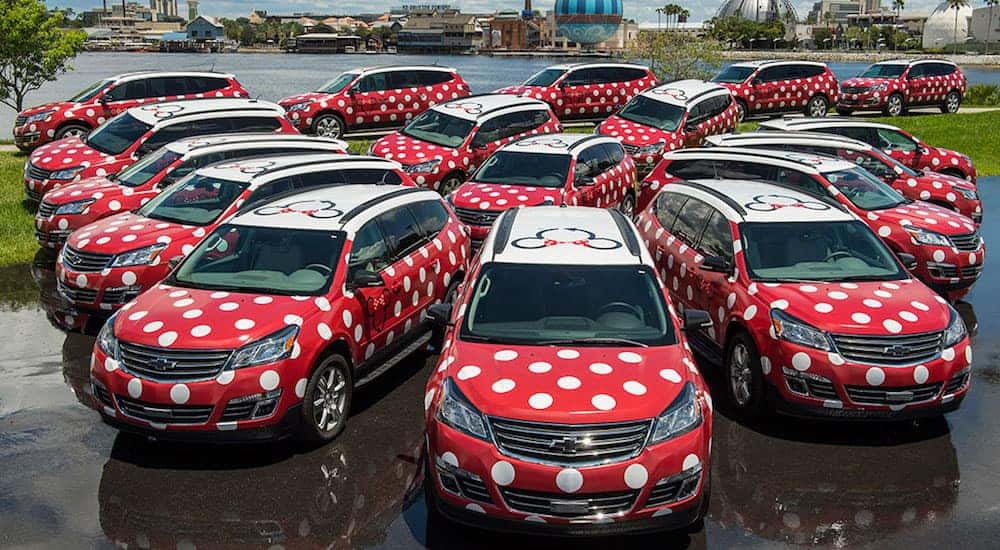 Maybe you clicked on this article and thought, "Surely there's a typo in that headline." But it isn't a typo; the phrase "Minnie Vans" refers to a special fleet of vehicles belonging to Walt Disney World and Resort. If you live in the Orlando, Florida, area or are planning to visit Orlando any time soon, you might be interested to learn some fun facts about Disney's fleet of Minnie Vans. Make sure to take advantage of these fun Chevys if you visit Disney World in Orlando. They make for a fun, relaxing, and Instagrammable way to get around the resort, which should probably just be named Chevrolet Orlando at this point.
What Are the Minnie Vans?
Although these vehicles are called "vans," the moniker is kind of a misnomer. The Minnie "Vans" are actually a fleet of more than 50 Chevy Traverse SUVs styled after the iconic Disney mouse herself, Minnie Mouse. Bright red with white polka dots, these vans hold up to six passengers, which makes it easy for families to get from one end of the resort to the other. Car seats are also available to guests at an extra cost.
Additionally, though the majority of the vehicles in the Minnie Van fleet are SUVs, there are a few vans available with what's needed to accommodate guests who use wheelchairs or ECVs as well as other disabled passengers. These accommodations mean that people with disabilities may find using a Minnie Van an easier way to get around the park than searching for an accessible taxi or other ride-sharing vehicles. However, these guests should be aware that Disney specifies those needing these accommodations may have to wait longer for service than others.
Though Uber and Lyft both operate in the park as well, the Minnie Vans are driven by Disney's very own Cast Members. Having a Disney driver means that you will likely get the same high levels of customer service, efficiency, and cleanliness that you will find elsewhere in the park. Plus, having the peace of mind that the driver is a trained Cast Member can ease concerns for those who are distrustful of ridesharing or taxi drivers for various reasons.
Where Can You Use Minnie Vans?
The Minnie Vans can be used almost anywhere on the park's property during the service's operating hours. At first, the program was only available to those staying at a select few hotels, but now Disney has opened the program to make it available to guests of all its hotels, except for the three All Star hotels. Disney has also expanded the service to shuttle guests to and from the Orlando International Airport.
What makes this service especially convenient is that the Minnie Vans have many drop-off locations within the actual park. For example, guests going to the Magic Kingdom actually get taken to Magic Kingdom instead of being left at the Ticket & Transportation Center, where Uber and Lyft typically drop their passengers off. There are also drop-off locations directly at Pioneer Hall for guests attending the Hoop Dee Doo Musical Revue or Trail's End at Fort Wilderness. Finally, at Disney Springs, there are drop-off points beyond those used by Uber and Lyft drivers just for Minnie Vans. The Minnie Vans makes it easy for guests who need to make it across the park quickly or who are too tired to walk, as is often the case after a long day at the park.
Guests can utilize the Minnie Van service between the hours of 6:30 a.m. and 12:30 a.m. daily.
How Much Do Minnie Vans Cost?
Choosing a Minnie Van over other forms of transportation has advantages and disadvantages when it comes to price. Within the park, the Minnie Van has a flat rate of $25. When using a Minnie Van to get between Orlando International Airport and the park, there is a flat fee of $150. Compared to using a taxi service, the cost of a Minnie Van will almost always be better. However, the price of a Minnie Van is about double that of an Uber or Lyft ride during regular times of service. However, during "surge" times, when the rates of ride-sharing services increase due to an increase in demand, using a Minnie Van may be cheaper than using Uber or Lyft. And, of course, using a Minnie Van is more costly than using Disney's free bus service.
How Do You Use Minnie Vans?
Minnie Vans are operated through the Lyft app, though as we've mentioned, it is Disney Cast Members and not Lyft drivers who do the driving. We'll take you step by step through the process of ordering a Minnie Van from the app to eliminate any confusion, as there are some extra steps you'll need to take compared to using an ordinary ride-sharing service.
First, make sure to have the Lyft app downloaded onto your smartphone. You will need to create an account with Lyft before you can request rides.
Next, you will need to activate your account in order to access the Minnie Van service. There are two ways that you can do this. The first way to activate your account is by using the pop-up notification you receive in My Disney Experience. Because the Minnie Van service is so new, some guests may not receive this notification. If that is the case, you can also visit a Cast Member at the concierge desk of your resort for assistance. Either way will enable you to request a Minnie Van via Lyft.
After activating your account, open the app and enter your pickup location and destination. Once you do this, you will see several different options, including standard Lyft, Lyft Plus, Lyft Line, Lyft Premier, Lyft Lux, Lyft Lux SUV, and Minnie Van Service. Each service will give you an estimated price, including the Minnie Van Service, but remember that the fee is a minimum of $25 (or $150, if traveling to or from the airport) no matter what.
Then, once you have selected Minnie Van Service, the app will provide you with an estimated time of arrival and include a number to identify the vehicle by, because all the Minnie Vans look alike. When your Minnie Van arrives, simply climb in and enjoy the ride.
All payment is handled through the app, so there's no need to worry about having money on you. You can use a debit or credit card information as well as Apple Pay.
Disney's Minnie Van service proves that nothing goes together better than Chevy and Orlando. If you're planning on visiting the happiest place on earth anytime soon, consider using one of Disney's Minnie Vans during your trip. It's sure to be an experience you'll never forget.