Chevy SUVs and Crossovers Continues to Impress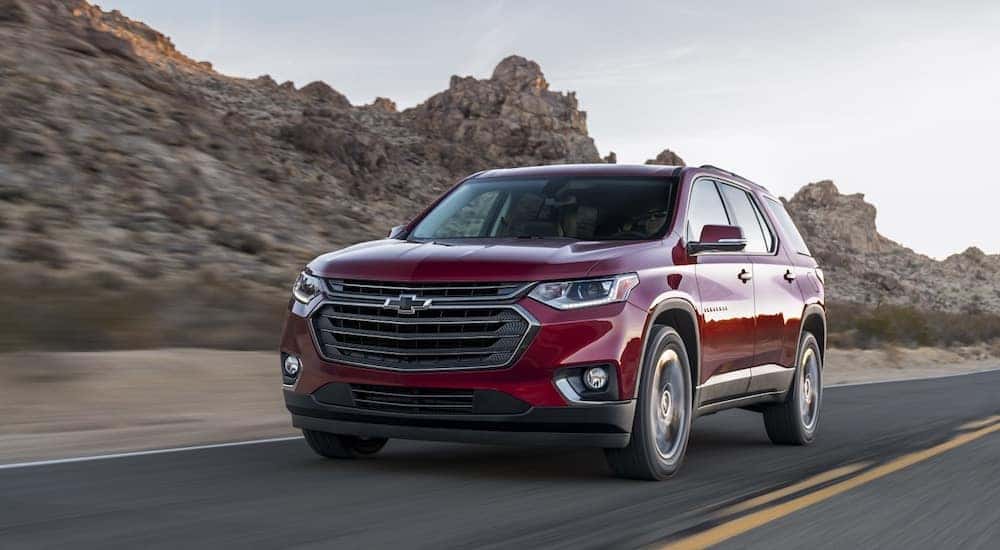 Chevy SUVs and Crossovers (CUVs) continue to set the bar high in a market where SUVs and CUVs are increasingly becoming drivers' top choice. Many drivers are forgoing sedan style cars for something a bit bigger which can offer more power on and off the road. Though SUVs and CUVs look fairly similar at first glance, SUVs, or Sport Utility Vehicles, are built on the base of a truck while Crossovers are built on the base of a car. Each has its own merits and offers something for different types of drivers. As a classic American car company, Chevrolet understands the needs of drivers and continues to have one of the strongest lineups of SUVs and CUVs out there!
The lineup of Chevy CUVs includes the Equinox, Traverse, and the Trax, all of which have bodies built onto the chassis of a sedan. They offer form, functionality, and flexibility to consumers who want the extra space and power, but aren't necessarily thinking of taking their vehicle off-roading. Chevy CUVs give drivers just about all the space they could need along with a comfortable ride which will keep their families safe.
Chevy SUVs never fail to make a statement on the road with their bold features and powerful engines. The Tahoe and the Traverse are testaments to Chevy's SUV expertise, providing outstanding horsepower, towing power, and torque. These can seat between 7 – 9 passengers, meaning that you can grab the whole family, and maybe even some friends, and still have enough space to haul all your stuff comfortably. The Tahoe Custom is even available in a 5-seater configuration, so you can even go slightly smaller but still get all the power from a classic Chevy SUV. These vehicles will impress you with their spacious and quiet interiors, advanced safety features, and inspired craftsmanship.
Chevy Crossovers
The Chevy Equinox
This Chevy CUV is a frequent sight on roads and highways all over America. The Equinox's above average fuel economy sets it apart from the competition and will give your wallet a break when you decide to take the family on a long road trip. The supportive and roomy seats inside will keep you comfortable even for the longest drives and the easy-to-use infotainment system will ensure you're highly entertained for the duration of your trip. Standard features in the Equinox include a six-speaker audio system, a USB port, Bluetooth, Android Auto, Apple CarPlay, a Wi-Fi hot spot, and the MyLink infotainment system with a 7-inch touchscreen. If you're looking for a great crossover to take your family where they need to go, the Chevy Equinox might be exactly what you're looking for.
2019 Model Specs
63.5 Cu. Ft. Max Cargo Volume
Seating for 5
22-28 MPG City and 28-39 MPG Highway
FWD, AWD Drivetrain Available
137-252 Horsepower
The Chevy Traverse
The Chevrolet Traverse is a crossover (or mid-size SUV depending on who you talk to) that offers an outstanding amount of room for all your passengers and cargo. It also features one of the smoothest rides you'll experience and boasts an intuitive infotainment system to keep you entertained on long journeys. With its best-in-class max cargo space of 98.2 Cu. Ft., you can easily fit all of your equipment, luggage, groceries, or anything else that you might need to haul right into the back. This vehicle is designed for the family that's always in motion and off on a new adventure.
No matter where the road takes you, the Chevy Traverse has the technology, capability, and proven safety record to get you there in style and comfort. The 2018 version of the Traverse scored the highest possible safety rating from the National Highway Traffic Safety Administration, an overall 5-stars, and we're eagerly anticipating a similar result for the 2019 version.
2019 Model Specs
Comfortable Seating for up to 9 People
14 Advanced Safety Features are Available
20 MPG City and 26 MPG Highway
FWD, AWD Drivetrain Available
257-310 Horsepower
The Chevy Trax
The last in our crossover lineup is the Chevy Trax, a vehicle that's designed to put performance onto city streets. As a smallish vehicle, it's purposefully designed to be able to fit right into the tightest of parking spaces without feeling cramped on the inside. Chevy knows that just because you live the city life doesn't mean you should have to sacrifice cargo space or capability just to get around. The Trax is efficiently powerful and offers many advanced safety technologies including its user-friendly infotainment system. Its agility and handling will help you avoid dangerous drivers on the road and its safety features will make sure you and your family stay safe no matter where you are.
2019 Model Specs
Standard 1.4l Turbocharged Ecotec Engine
10 Standard Airbags
Versatile Seating and Cargo
Seating for 5 People
24-26 MPG City and 29-33 MPG Highway
FWD, AWD Drivetrain Available
138 Horsepower
Chevy SUVs
The Chevy Suburban
Do you ever wish you could fit your entire family inside of a truck and hit the roads with true power? Well, that's exactly the feeling you'll get with the Chevy Suburban. This vehicle embodies everything about a true SUV. It has lots of seating for the whole family, the cargo space to haul just about anything you'd want, and the power to keep you moving on the road without compromising torque or acceleration no matter what's riding along inside. The Chevy Suburban has many of the luxurious amenities you'd only expect in a much more expensive vehicle and its comfortable ride will keep you feeling like a king on the road. If you're bringing along something valuable like a laptop or other devices, there's even room to store them in the center console or behind the 8-inch diagonal touch-screen. This SUVs' best-in-class V8 fuel economy of 23 MPG highway is outstanding for such a large vehicle, it's no wonder that the Suburban is part of America's best-selling family of full-size SUVs.
2019 Model Specs
Available Built-In 4G LTE Wi-Fi
Up to 14 Charging Locations
355-Horsepower 5.3L V8
Max Cargo Volume 121.7 Cubic Feet
Seats Between 7-8 People
15-16 MPG City and 22-23 MPG Highway
RWD, 4WD Drivetrain Available
The Chevy Tahoe
This Chevy is probably exactly what you need if you're looking for a solid, large SUV with decent fuel economy and lots of comfort options. The attention to detail inside the Tahoe is second-to-none and will remind you of the craftsmanship of fine wristwatches. The appearance of the instrument cluster is both intricate as well as refined. You won't feel nervous backing up this large SUV either since all Tahoes come standard with rearview cameras and rear parking sensors.
In terms of power, the Tahoe really delivers. It's two available V8 powertrains deliver excellent muscle, solid towing capability, and good fuel economy. In spite of its weight and size, the Tahoe is remarkably easy to steer and offers good ride quality over bumpy roads. If you need lots of space to seat your family and friends and want to buy one of Americas most trusted large SUVs with historically good predictability ratings, the Chevy Tahoe is a great option for you.
2019 Model Specs
Available Built-In 4G LTE Wi-Fi
355-Horsepower 5.3L V8
Chevrolet Mylink with 8" Display
Seating for 7-8 People
14-15 MPG City and 21-23 MPG Highway
Best-in-class V8 highway fuel economy
RWD, 4WD Drivetrain Available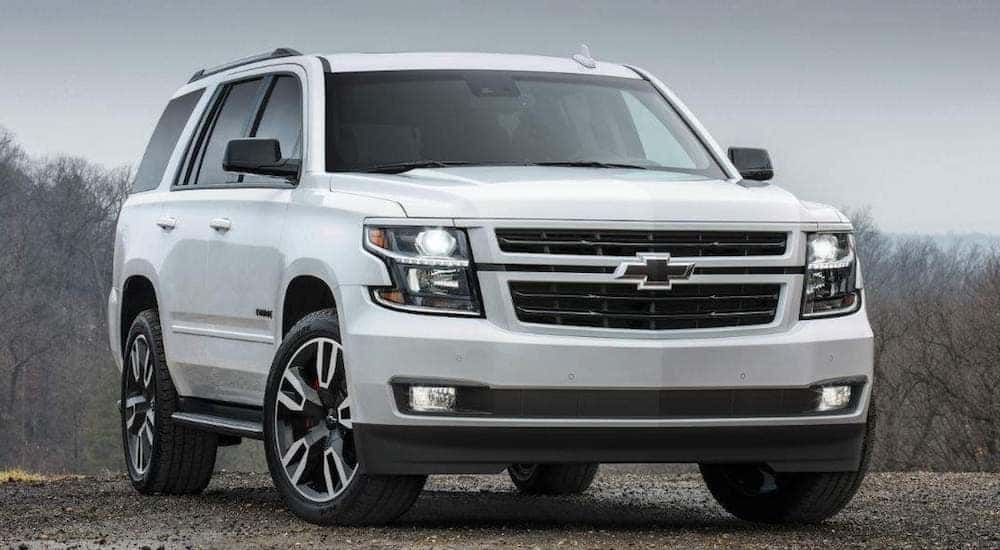 Chevy SUVs and Crossovers
With so many Chevy SUVs and Crossovers to choose from, we encourage you to think about exactly what you and your family needs. Do you live in a city? Have upwards of 8 people that need to be hauled around? Do you often go on road trips and want great entertainment options? Once you've figured out what your top priorities are, we're sure that you'll be able to find the exact Chevy SUV or crossover to fit your lifestyle.