2019: The Year of Buick SUVs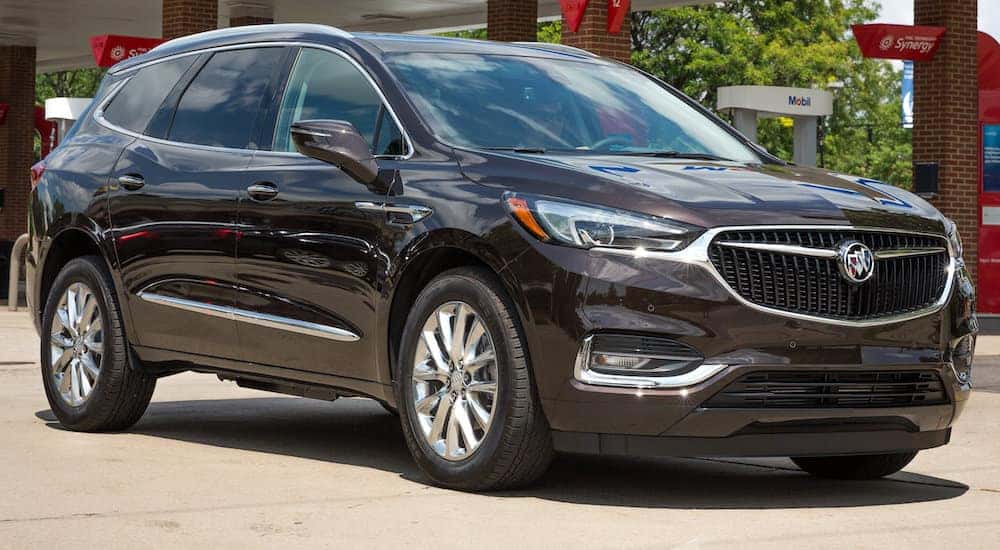 If you haven't been keeping up, Buick has experienced what some may refer to as a reinvention over the past decade or so. What was once known as a slowly fading symbol of the golden age of American automotive has reemerged has one of the premier luxury car manufacturers in the world. Not only is Buick looking to create an American car that truly epitomizes modern aesthetic and luxury, they are looking to take their design philosophy to Buick convertibles, Buick SUVs and everything in between.
Today we're going to talk about Buick's take on the classic SUV and crossover design. With an exciting new brand philosophy, fresh ideas and a lot of momentum, Buick may surprise you with what they have in store for this classic and rugged automotive design. Let's take a look at what this seminal American manufacturer has in store and see if it truly is time to finally buy a Buick.
2019 Encore
The first Buick SUV we're going to dig into today is the 2019 Encore. Starting at only $23,200, this vehicle is designed to take all of the advantages of a full-size SUV and present it in a small and sleek package. Available in the base Encore, Preferred and Sport Touring models, the Encore lineup has a ton to offer anyone looking for a sporty answer to their SUV needs.
The first glance of the 2019 Encore presents a picture of something that is utterly unique. Through Buick's unique take on the SUV design, they truly do provide a car that captures the essence of both types of vehicle. And in addition to its overall sleek appearance, the power moonroof, premium LED lighting and available sport exhaust tip are sure to turn heads no matter where you go.
Once you can finally get past its flashy appearance and under the hood, the Encore continues to impress. This tiny SUV uses a 1.4LTurbo engine with available intelligent All-wheel Drive to provide 138 horsepower and incredibly nimble handling around every turn. If the idea of a turbo engine seems a little scary to you, you can rest assured with the assistance of the Stabilitrak system. This electronic stability control program can instantly access a situation and apply quick and precise pressure to your brakes in order to keep your car confidently in command of the road ahead.
The Encore's spacious five-seat interior features an available leather-wrapped heated steering wheel, available heater front seats and a push-button ignition. The car is also insulated with Buick's QuietTuning technology, which uses triple door seals and acoustic laminated windows to provide a ride that is unparalleled in its peace and quiet.
2019 Regal TourX
Moving into crossover territory, we find the Buick Regal TourX. And while some of the purists out there may argue that this doesn't fall under the SUV banner, I think many others would disagree. The excellent Regal TourX provides the power and style of an SUV in a form more closely resembling a classic station wagon.
Starting at $29,070, the Regal TourX runs just a little higher than its Encore counterpart, but with some distinct upgrades. This car's low athletic stance and long body is much more reminiscent of a traditional sports car than your typical SUV. It also uses its elongated roof to provide the space for roof rails and crossbars. Whether it's bikes, kayaks, a travel carrier or your mother-in-law's dresser, there is simply a ton of space up on this roof. The TourX also features 18'' aluminum wheels to keep your look rugged and cool, no matter what you're hauling on the roof.
While the Regal TourX does share a few interior similarities with the Encore, this is one of the areas where it really sets itself apart. Again, using its long frame to its advantage, the rear seats can reconfigure in a variety of ways to provide up to a whopping 73.5 cu. Ft of cargo space. With room like that, the only boundary is your imagination. Lastly, the TourX offers an available in-vehicle air ionizer to reduce pollen, dust and debris from the air that enters your car.
For anyone still not convinced that the TourX deserves to stand among the SUVs, they need only take a peek under the hood. This crossover is powered by a 2.0L turbocharged engine that cranks out an astounding 250 horsepower and 295 lb-ft of torque. Working in tandem with the five-link rear suspension system, the TourX finds the perfect combination of power and comfort in its ride.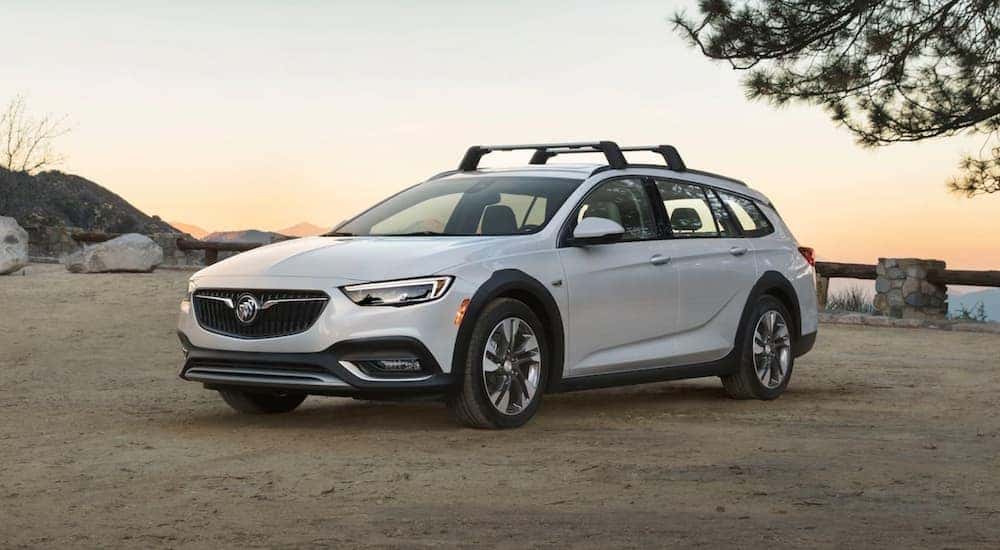 2019 Enclave
Now that we've come to the end of our Buick SUV showcase, we'll talk about the really fun one: the 2019 Enclave. Long past the Buicks of yesteryear, the Enclave is a sleek and modern SUV suitable for family outings or a spontaneous night on the town, this SUV can do it all.
The 2019 Buick Enclave truly epitomizes Buick's take on a full-size luxury vehicle. The exterior exudes luxury and style with its sporty, aerodynamic trim chrome wings and signature Buick tricolor grille. The winged LED headlamps further contribute to the Enclave's overall look of capability and confidence. This is one of the Buick SUVs that will certainly be turning some heads.
The Enclave's interior combines comfort and utility in a way that makes this SUV appropriate for just about any occasion. Its high level of versatility with seating arrangements allows you to pop the seats up for a six-person caravan or fold them all down to provide maximum storage space. Regardless of what who your passengers are or what your cargo is, you can ride in the utmost comfort thanks to Buick's Quiettuning technology. By using triple door sealing, acoustic laminated glass and specific suspension tuning, the Enclave practically absorbs sound, providing you with a whisper-quiet ride.
Lastly, the Enclave brings the performance to match its sleek design. The 310-horsepower engine works in tandem with an advanced nine-speed automatic transmission to provide a ride that is both powerful and completely smooth. With features such as the available intelligent all-wheel drive active twin clutch, you can add to your overall performance kit as you like to fine-tune the ride that is perfect for you.
Year of the Buick SUV
With flashy designs, powerful engines, amazing technology and an all-around new attitude, Buick has caught the attention of the general public once again. And whether you're looking for a convertible, a luxury sedan or a big and powerful SUV, Buick has you covered on all fronts. So, if this article has you convinced, the only thing left to do is make your way down to your local Buick dealership.
Carl Black Orlando
For folks residing in the Orlando area, there really is no better place to go for a Buick than to Carl Black Orlando. Through an extensive inventory of new cars, trucks and SUVs from Buick, Chevrolet and GMC, Carl Black works as hard as possible to provide you with the ideal car-buying experience. As a close member of the community, Carl Black uses perks such as their easy financing process, trustworthy service and trained team of friendly professionals to make you feel comfortable at-ease during every step of your car buying experience. Visit the website today to learn more and plan your trip.