Chevrolet Dealer Near Me
What Does It Mean to Be a Car Dealer for The Everyday Driver?

There will always be people who need to have the most expensive and luxurious models on the market, but the majority of drivers are the everyday commuters, workers, and dreamers that need something more stunningly commonplace and reasonably priced to get them through the day. Out of all the automotive manufacturers this world had to offer; there are very few that truly take the time to consider what the everyday driver's wants and needs, and out of all of those that do, only one has mastered the art of being an everyday dealer for everyday cars: Chevy. So, let's see what a "Chevy dealer near me" will have to offer.

Why Carl Black of Orlando?New ChevroletSpecials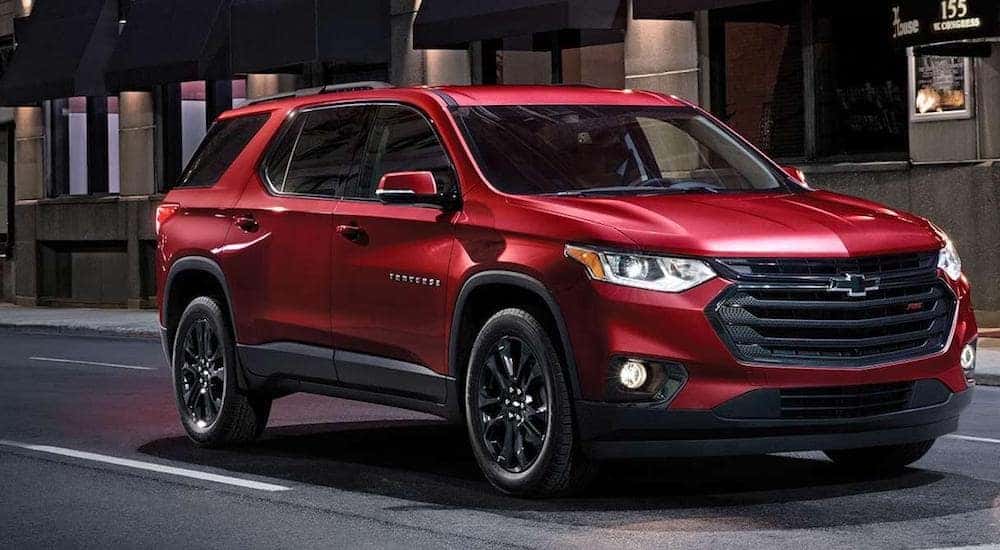 Chevy Dealers
When you think about getting that perfect car for your everyday lifestyle, the only place you should even think about is a Chevy dealer. You may be asking something like "but what makes a Chevy dealer near me so great?", and the simple answer to this is that they provide everyday services that suit the typical driver in every way possible. No matter what type of life you are living, a Chevy dealer near you will be able to provide the vehicle you need and do it in a way that is guaranteed to leave you satisfied.
Chevy, or Chevrolet, is a division of General Motors that has been around since 1911, making them over a century old and veteran professionals of the automotive world. This time and experience has allowed them the time to focus on learning what drivers need and perfecting the art of letting them have it. Chevy is one of America's leading automotive manufacturers, and over the years they have gained more awards and recognition than nearly any other brand. Their main focus has always been to provide convenient and reasonable vehicle options to as many drivers as possible, and this goal has clearly been a successful one for them.
Needs of The Everyday Driver
Whether you need something small and sporty to get around the crowded city streets or something big and strong to get the hard work done, Chevy will always have a vehicle that blends into your lifestyle. Overall the important thing for Chevy dealers is that they want to make sure the vehicles they provide, provide the things that you care about. Here are some of the top automotive needs as noted by everyday drivers:
Safety
Safety is nothing to joke about when it comes to vehicles, and that is why Chevy and Chevy dealers are set on the concept of prevent, protect, and respond. Not only are the vehicles at a Chevy dealer near you packed with passive safety features to protect you in case of a collision, but they are also fitted with active safety features that will build awareness and increase your reaction time by alerting you to any changes in your environment.

Affordability
Clearly, the most important thing to an everyday driver will always be finding a vehicle that fits the budget. Chevy vehicles are some of the most affordable on the market. Chevy dealers near you also know that drivers admire a good value, and so they prioritize making their vehicle prices as accessible to the public as possible. They are also always designed with a number of trim options so that you can get exactly what you need for exactly the right price. No one should have to settle or break the bank for the right to own a vehicle, and Chevy dealers make it so that no one ever has to.
Reliability
Anyone who drives to school or work on a daily basis will know that a vehicle that isn't reliable enough to always get you where you need to go is a never an option. They need to stay strong, last long, and be able to get your through the everyday commute, and luckily Chevy vehicles have been rewarded for their reliability time and time again. If you invest in a Chevy, you will never again have to phone in the embarrassing excuses that your car wasn't up to the task, and that sadly neither are you.
Efficiency
Efficiency is everything to a Chevy vehicle from a Chevy dealer near you, and it comes in many forms. There is efficiency of design so that you may fit all of your belongings, look stylish, and feel right at home on the road. There is efficiency of performance so that you can drive fast, strong, and even in the worst conditions. There is also efficiency of fuel so that you can drive for miles without wasting tank after tank with Chevy's hybrid and fuel-friendly vehicles. Chevy is all about that everyday convenience that was made to make your life more efficient and easy.
Balance
One or two impressive qualities are great, but when you put them all together in a way that is harmonious you can't help but fall in love with the vehicle.  The everyday driver needs to be prepared for anything, and that is why a balanced vehicle is a must. Chevy doesn't just focus on one or two of the things everyday drivers need; they make sure you have them all at the ready.
Service Needs of The Everyday Driver
A Chevy dealer near you will not only offer all the vehicles you want, but it will ensure that you end up with the perfect one by offering a quality service experience that has everything an everyday driver needs and wants.
Information
When an everyday driver asks a question, they want an informed, clear, and honest answer that they can rely on. Not only must a dealer be informed about their own inventory, but they must also be informed about what everyday drivers are looking for, and what the market as a whole is offering. At a Chevy dealer near you, you can find a staff that is always prepared and ready to share their automotive expertise.
Personalization
Every driver has their own unique style and flair when it comes to driving, and it is nice to have a dealer that is willing to look at each driver as an individual instead of generalizing your needs compared to other drivers. At a Chevy dealer near you, such as Carl Black Orlando, you can be assured that your automotive needs will be carefully listened to so that a personalized plan is put into place for your service experience.
Respect
No matter where you go, you want to feel respected, and at a Chevy dealer that is the number one priority, right alongside finding you that perfect vehicle. Chevy dealers will always allow you to set the pace and make the choices without any pushiness or unwanted interactions. You will be heard, you will always be given a straight answer, and you will be given all the help you need at a Chevy dealer near you, and that is worth its weight in gold in the complicated art of car dealing.
Passion
When it comes to what a dealer can provide its drivers, the best thing is without any doubt is passion. Buying a vehicle should be an exciting time in a driver's life, but these days it feels like most drivers are burdened by the stress of the process. At a Chevy dealer near you, you will almost instantly be filled with a passion as you take in the brilliant selection and passionate staff, which will remind you of the joy of getting something new that you haven't felt since Christmas as a kid. So remember to find a dealer that shows its passion for the automotive world, and hopefully, you will find your passion as well.

Call Us or Visit at Carl Black of Orlando – The Best Chevrolet Dealer Near You!
At Carl Black of Orlando, we pride ourselves in our service and selection. We strive to be the best Chevy dealer near you and the entire Orlando area. Stop by, click or call to see the Carl Black difference for yourself.