What's the most famous car from movies?

2020 Chevy Suburban Star of Excellence
Though many cars hold iconic places in film- from the Batmobile to the Delorean and beyond- only one has received the honor of its very own Star of Excellence on Hollywood Boulevard. The lucky recipient of this honor is the Chevy Suburban (along with its younger brother, the Tahoe). What was it that earned this model the iconic honor? Read on to find out.
---
Star-struck? Don't be. View Our New Chevy Suburban and Tahoe Inventory Here
---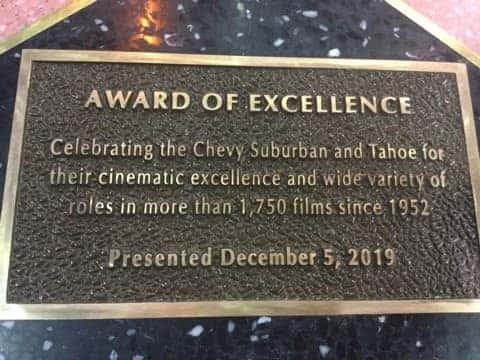 The Chevrolet Suburban was awarded its very own Award of Excellence thanks to its "starring role" in more than 1,750 films and television series' ever since its illustrious 67-year career in the film industry began in 1952. Chevrolet credits the vehicle's remarkable ability to play the "hero, the villain, or the family alike."
The versatile ride is able to fit with any type of character, and always brings a sense of importance to the scenes it appears in. As Dennis McCarthy, Hollywood picture car coordinator, puts it, "When a convoy of black [Suburban models] appears on screen, you know that's not the time to leave your seat to buy popcorn."
The Star of Excellence Award was presented to the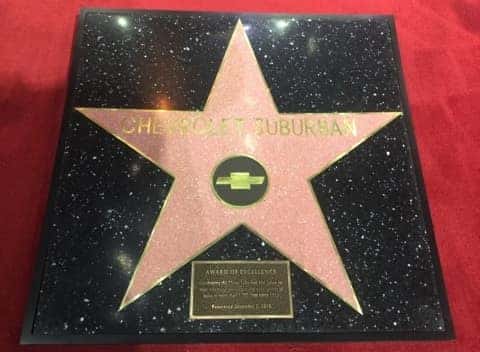 Suburban by the Hollywood Chamber of Commerce. It was unveiled at a ceremony on Hollywood Boulevard. In receiving the award, the Suburban joins the illustrious group of Hollywood legends whose stars adorn the pavement. It's the first vehicle to receive the prestigious honor.
And they say the new, redesigned Suburban is inspired by its cinematic presence. 
How many movies have the Suburban and Tahoe been in?
The Suburban first appeared onscreen, kicking off its film career, in 1952. Since 1956, the vehicle has appeared in at least one TV series every year. It's been in at least one film per year since 1960. Throughout that time, it's packed more than 30 award-nominated films under its belt.
If we factor in the Tahoe, these two vehicles have appeared in more than 2,500 films and television shows. The Tahoe was introduced in 1995, and has appeared in at least one film and TV show every year since.