2022 Chevrolet Bolt EV Trim Level Comparison

2022 Chevrolet Bolt EV Trim Level Comparison
The 2022 Chevrolet Bolt EV has two trim levels: 1LT and 2LT. The 1LT is the base trim level, meaning it has the lowest price tag associated with it, and that the other trim level builds off the framework that it creates. The 2022 Chevrolet Bolt EV 1LT has a starting MSRP of $31,000. The 2022 Chevrolet Bolt EV 2LT has a starting MSRP of $34,200. 
We'll look at similarities first. Both models of the 2022 Chevrolet Bolt EV offer an EPA-estimated range of 259 miles on a full charge. To charge them, you'll get a 120-volt portable charging cord with your purchase. This charging cord is the same no matter which trim level you choose. It allows you to plug your car into a compatible outlet in your garage and will charge your vehicle overnight, providing you with the convenient experience of not having to stop at the gas station. They also come standard with advanced safety features included in Chevy Safety Assist. Keep reading below to learn about the differences of the 2022 Chevrolet Bolt EV trim levels. 
---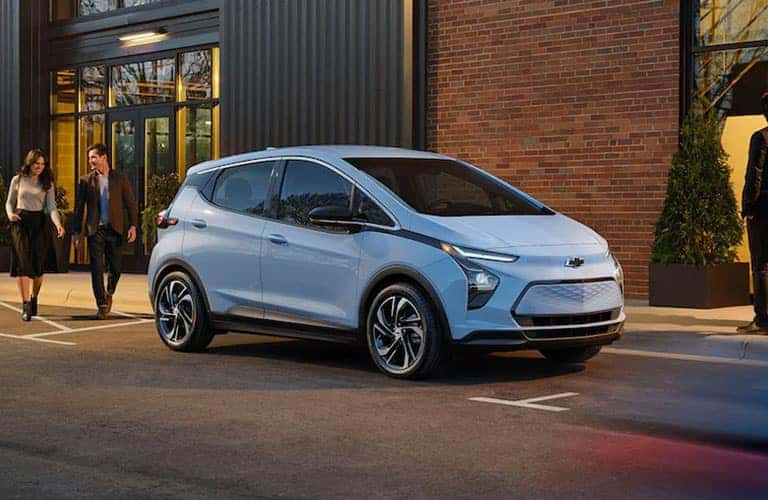 ---
Find your trim level of the
2022 Chevrolet Bolt EV here at Carl Black Orlando in Orlando, FL
So far, the only difference between the 1LT trim level and the 2LT trim level that we've touched on is price. Of course, there is a reason for that difference in price. One of the differences that you might notice when you step inside is the seating material. If you have an aversion to leather for any reason, then you'll want to choose the 1LT trim level, which has cloth seating.  
On the flip side, you'll want to choose the 2LT trim level if you want a more advanced cruise control system. As you know, cruise control allows you to maintain a set speed while driving on the highway. Well, available Adaptive Cruise Control on the 2LT trim level also helps you adjust to the speed of traffic, so you don't have to do it manually. Basically, if your vehicle gets within a certain distance behind a slower vehicle, it will slow down to match that vehicle's speed. 
---
View our 2022 Chevrolet Bolt EV inventory
---