2022 Chevrolet Bolt EV Orlando, FL

2022 Chevrolet Bolt EV Orlando, FL
The 2022 Chevrolet Bolt EV is redesigned from its previous model year. This affordable electric car starts out at $31,000. We absolutely love its unique look, from its streamlined shape to its black bowtie emblem. It looks good and it is fun to drive, with punchy responsiveness that can take you from 0 mph to 60 mph in just six and a half seconds. That quick acceleration is great for merging onto highways and quickly adjusting to a different speed limit. When you want to take full advantage of this acceleration, just press the Sport Mode button, which amplifies this model's responsiveness for a more exhilarating ride. When not in sport mode, it will give you a more relaxed driving experience, focusing more on efficiency than power. In fact, you can access One Pedal Driving to get the most miles from your charge. Keep reading below to learn more about charging and other features of the 2022 Chevrolet Bolt EV.
---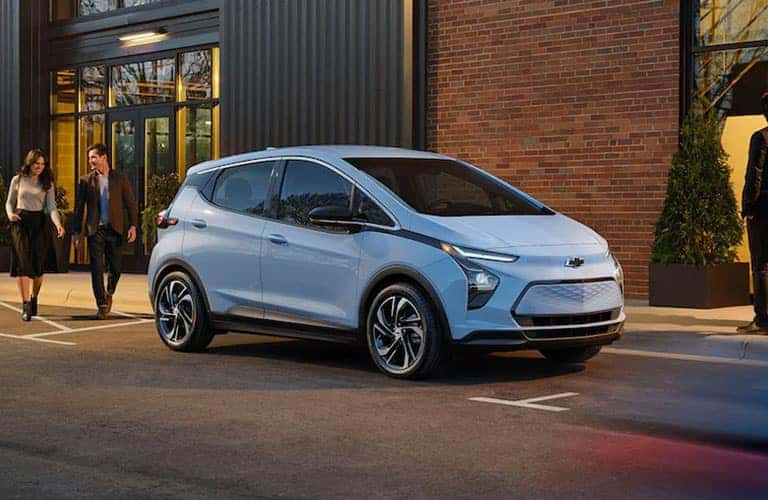 ---
Find a 2022 Chevrolet Bolt EV model here at Carl Black Orlando in Orlando, FL
Is this the first electric vehicle that you are considering? If so, you'll want us to run through some of the basics with you. Basically, you can get a free home charger for your 2022 Chevrolet Bolt EV, which only requires a nearby outlet in your garage. This charger is installed for free, covered by Chevrolet, for both buyers and lessees. It is a Level 2 charger, which basically refers to how fast it can charge your vehicle. It is neither the slowest nor the fastest level, giving you a middle level of speed to work with.
Now, let's talk out on the road: Is a 2022 Chevrolet Bolt EV convenient for a road trip? We think it is, because with DC Fast Charging capability as a standard feature, the 2022 Chevrolet Bolt EV can quickly fill up at public stations. Furthermore, Energy Assist, a feature of the myChevrolet Mobile App, allows you to find a nearby charging station with ease. All of this to say, you can travel far and wide without any inconvenience.
---
Click here to view our Chevrolet Bolt EV inventory
---