2023 Chevrolet Colorado Orlando, FL 

The 2023 Chevrolet Colorado is the perfect truck for towing and hauling, and let's be honest, that's why most of us get a pickup truck in the first place. With 430 pound-feet of maximum torque, this truck is ideally equipped for comfort and control on the roads. It offers a best-in-class maximum towing capacity of 7,700 pounds as estimated by GM.  
The 2023 Chevrolet Colorado is not only powerfully capable but also technologically equipped to make your life easy and convenient. Keep reading below to learn about the best features of this model with us. If you're interested in purchasing a Chevy truck, visit us at Carl Black Orlando in Orlando, FL. 
---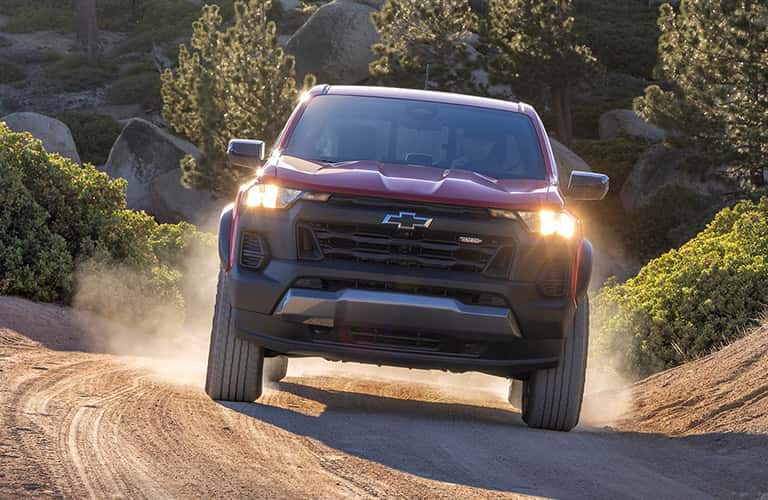 ---
The
2023 Chevrolet Colorado is available at Carl Black Orlando in Orlando, FL
Navigating in a vehicle with a trailer can be tricky. Simple maneuvers like reversing and changing lanes are made difficult by the addition of a large, obstructive trailer behind your vehicle. Luckily, the 2023 Chevrolet Colorado is equipped with a class-leading number of available camera views. In fact, it has ten different camera views that you can access through its large display screen at the front of the cabin. These different angles will help you drive with confidence. 
The 2023 Chevrolet Colorado makes towing easy, and it makes hauling easy. If you've got a light or uneven load in your truck bed, you can secure it in place using the 17 available tie-downs. This is a class-leading number of tie-downs, and it makes it easy to get everything securely in place, no matter what type of gear you're moving.  
When your truck bed is full, you can use the available class-exclusive StowFlex Tailgate for extra storage. It features a lockable storage compartment built right into the tailgate which can fit your odds and ends. If you don't have anything to put in it, you can use it as a cooler. There's even a drain at the bottom of this compartment so you can empty it once your ice melts or clean it out if it gets dirty. That's what we call convenient. 
---
View our Chevrolet Colorado inventory
---