2022 Chevrolet Bolt EUV Orlando, FL

Ready for an electric SUV? The 2022 Chevrolet Bolt EUV is fully electric, and it's a great SUV for first-time electric drivers. We'll help make the transition as easy as possible, so don't hesitate to ask questions or ask for help. You can find the 2022 Chevrolet Bolt EUV and other electric vehicles here at Carl Black Orlando. Keep reading below to learn more and visit us in Orlando, FL when you're ready. 
---
2022 Chevrolet Bolt EUV – specifications
Electric vehicles have some of the same specifications as gasoline models, which makes them easy to compare. For example, acceleration is measured in the same way for both types of vehicles. The 2022 Chevrolet Bolt EUV clocks in at 7 seconds to accelerate from 0 to 60 mph. It's not the acceleration that you'll get from, say, a luxury sports car, but it isn't too far off. Its starting MSRP of $33,500 is also directly comparable to a gasoline model. 
Some specifications may seem unique to electric vehicles at first glance. For example, electric range on a full charge is obviously something measured only in electric vehicles; however, it can be easily compared to a gasoline model's driving range on a full tank of gas. Think of it as the distance you can go between stops. For the 2022 Chevrolet Bolt EUV, this number is an EPA-estimated 247 miles.  
---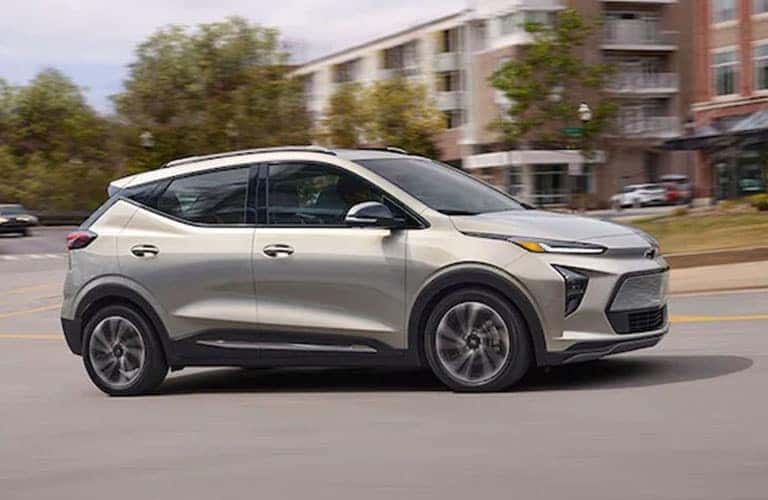 ---
2022 Chevrolet Bolt EUV – features
Other than specifications, you can also compare vehicles based on the features and amenities that they offer. The 2022 Chevrolet Bolt EUV offers a Driver Information Center. Most vehicles will have some version of this, often called the instrument panel. The difference here is that you get a color, digital display with easy-to-read information and more information options. One thing that you can view with this screen is battery range, meaning the approximate number of miles you have left before you need to recharge your vehicle. Another cool function of the display is to show you a Driver Efficiency Gauge and a Power Gauge, which shows you your energy distribution and use. 
---
View our Chevy Bolt EUV inventory
---